College soccer has recently returned in the last couple of weeks after a shortened season last year; due to the covid pandemic; we finally have a legitimate soccer season Among Us. I am somewhat emotionally invested in the South Dakota state girls soccer program. For the last three years, I have been considering the players; there are two players that I have worked with that suit up for SDSU, and another player that I have been involved with will be joining them next season. I have been heavily involved in Minnesota high school girl's soccer Since 2009. When Sophie Babu put together one of the most dominant High School careers ever seen. In 2018 I worked with At the time, one of the biggest stars in high school soccer was Burnsville's Maya Hansen, who I described in 2018 as the most talented player operations group that I had ever seen. In 2019 I became more involved when I started working with Kayla Anderson; the difference is Kayla Anderson was entering her senior season. I worked with her side by side, going to several games, emailing her back and forth to get all the information I possibly could while writing articles about the games I went to. Kayla gave me unbelievable access to her professional life on the pitch and her personal life regarding my project. I wrote a book about her High School career titled risen from ruins; however, the book won't be released until Kayla finishes her college career because I wanted to see how the story ends. I've also done numerous articles and worked with and communicated with many different athletes in Minnesota high school soccer. When it comes to the talent coming through Minnesota, I know what I'm talking about. Unfortunately, I feel like SDSU is wasting what they have in front of them. I will explain my issues and my frustrations, and I will be as respectful as possible. Even after Kayla's graduation from White Bear Lake, we maintain a good working relationship despite not talking a lot. Occasionally I will email her to ask her some questions to help my book even more, and she's always willing to help me out, so I'm going to be very careful with my words, considering she is still on the team. Again I want to remind everyone these are my personal opinions on what I have seen; that does not mean I'm right, but it doesn't mean I'm wrong either remember these are my opinions I'm just going to break this down from my point of view no reason to be offended or disrespected buy anything I'm writing let's talk about it.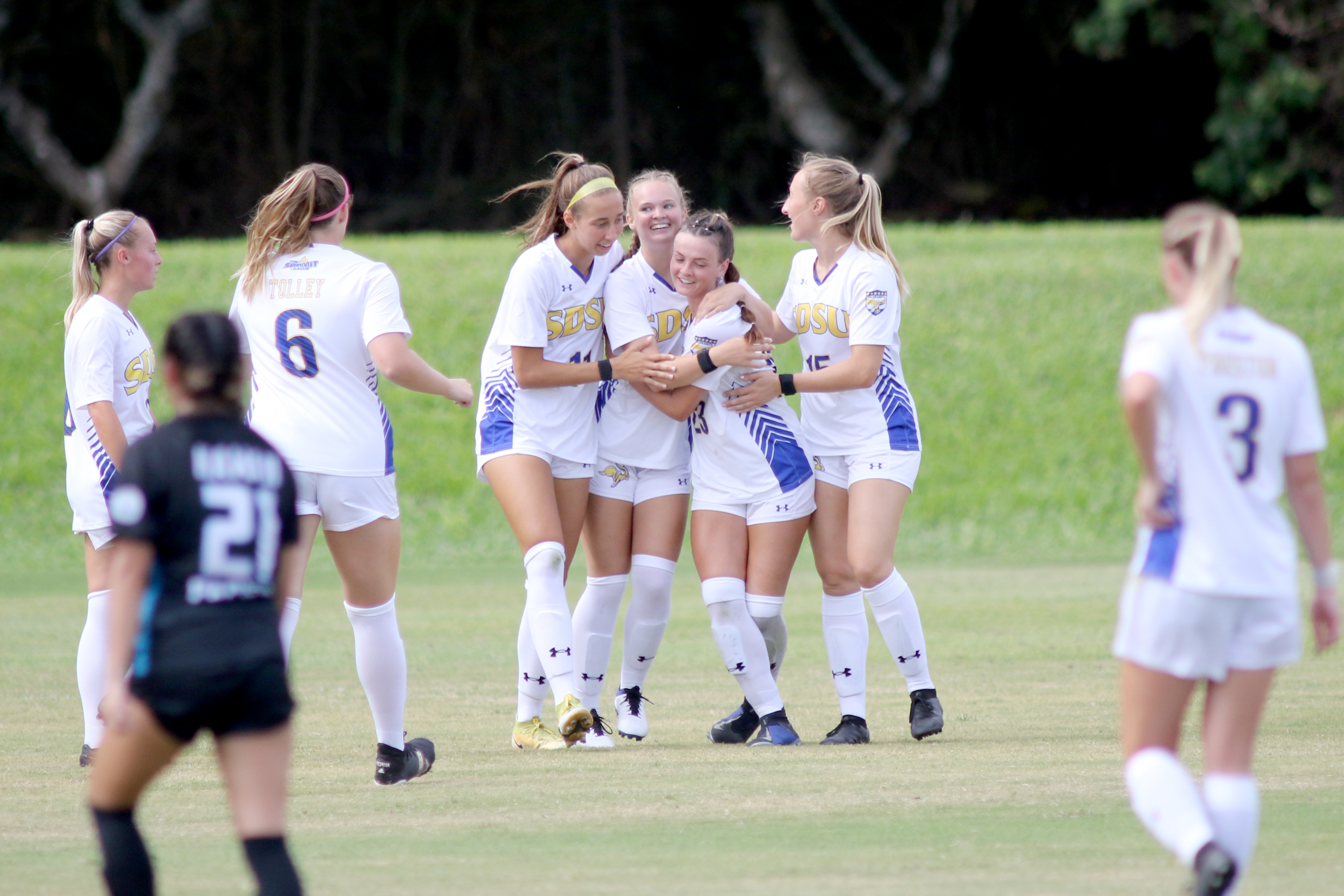 Brock Thompson has been very well respected within the summit League during North Dakota State and South Dakota State. He has a very impressive winning percentage taking the conference numerous times. Every single year South Dakota state is expected to challenge for the conference. Year-in and year-out, the conference is always up for grabs between two teams SDSU and the University of Denver. That is happening because of Brock Thompson; we can say whatever we want about the style of football or the tactics he uses that are always open for criticism. What is not open for criticism is whether or not he's a top coach; he certainly is one, even someone like me who has taken issue with some of the things he has done this season and parts of last season, I recognize he's an excellent coach in SDSU will be in a much worse situation if he was not there. Over 150 wins constantly contending for the conference getting the best out of many players; they would be in a bad situation without him. The recruiting that he's been able to do over the last three years that I've known about him has been top-notch. When I saw South Dakota State play against the University of Minnesota, his relationship between himself and the players is something that I respect he has a particular Bond with all of them. From what I can tell, the girls love playing for him. As long as he captains the ship, SDSU will continue to play positive football and perform high. However, regardless of how much I respect and appreciate what he's been able to do at South Dakota state, we have a slight problem, my friend. From a tactical perspective, I just don't think he is innovated enough; even though he plays positive football, his team selection can be very questionable at times, but the big issue I have most importantly is underutilizing some of the talents that He has. You could argue maybe I'm speaking out of this because of my admiration and relationship with Kayla Anderson, but honestly, I am speaking about this objectively. You see, Kayla Anderson isn't the only player that I'm worried about progressing within the team. Kayla is getting decent game time; my issue with how she's being played is more my concern than anything else, but this is just my personal view. Catherine Jones, in all honesty, is the player that I think is the most underutilized in the entire Squad. There's no doubt I'd like to see him give more game time and starts; she needs to be more involved in the game plan as an outstanding sophomore but Catherine Jones being barely involved is the biggest problem I have. There are other players within the team that I think he handles extremely well. Maya Hansen came into that program as a freshman and was immediately integrated into the game plan. She has played consistent minutes every year; it has been so nice to see her thrive under Brock Thompson. I think those two are on the same page a lot of the time, which allows Maya Hansen to continue putting together some really great moments between them. She's probably the best player on the team; she had 7 Goals 4 Assists as a freshman, scored 7 goals and 5 Assists last year as a sophomore, and this year she's already off The Mark with 5 goals and 2 Assists to start the new season it's clear he has an identity and knows how to get the best out of Maya Hansen however with Kayla Anderson and Catherine Jones I don't think he gets it. I have been informed and educated on Minnesota girl's high school soccer for several years. I attend matches, study the league, and am aware of the best players in the state; ever since I started working with Maya, it's been imperative to me. I continue to watch the games and see these girls become much more complete players. I understand high school soccer in college soccer are very different; you can be an all-time great High School soccer player and not deliver on the next level. They're those types of players who try to step up and challenge themselves at those extreme levels, but it doesn't always work out. Sophie Babo is the best high school player of ever seen. However, Sophie Babo was an absolute Beast. I thought this was the type of player going to reach incredible Heights at the college level and maybe have a shot at being professional. I don't think many people understand how dominant she was; it was like women against girls when she was on form; nothing could be done to stop her. She went to Kentucky and struggled; part of that probably was because she couldn't play or natural position, but at the college level, she just couldn't quite get it. However, high school superstars have transitioned exceptionally well to college when they're given the opportunity. That's the part I want to focus on here when they're given opportunity now; if you're not, it's a different type of thing because out of their control. Kayla Anderson was one of the most dominant center forwards in high school soccer over the last decade. I can only go by what I've witnessed, and even though I have worked with her personally, I know how hard she works, and I've seen her perform at the highest level; she is extraordinary 67 goals and 27 assists, 55 games that are historically great. I said this when I wrote the book, and I'll repeat it the number three jersey should never be worn by anybody else because it is an impossible expectation to live up to.
Kayla and Katherine Historically Great High School Stars Showed Promise as Freshmen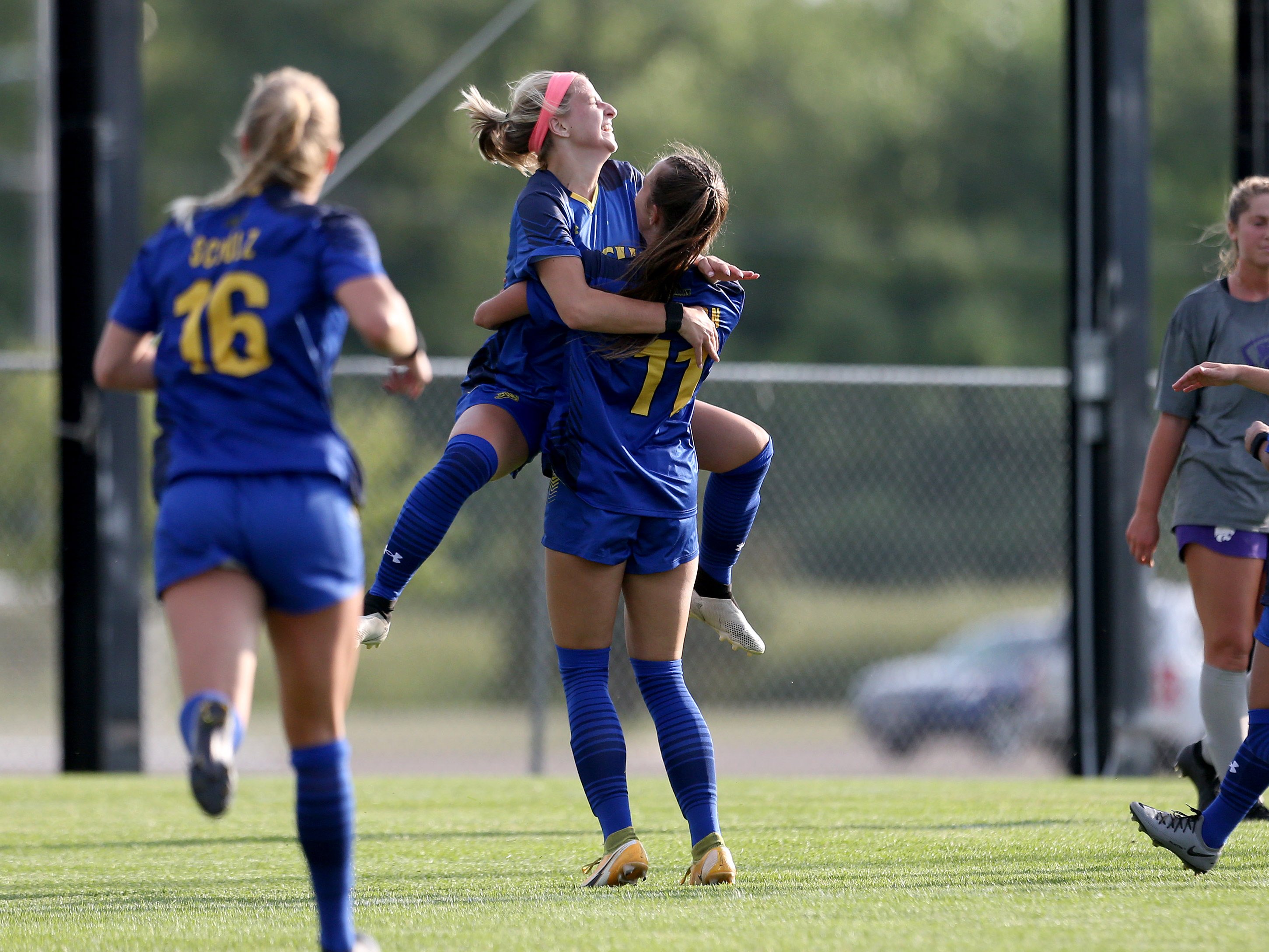 During her freshman season, I didn't expect her to get a ton of game time because it's hard to when there are 24 players on the Squad especially returning seniors, Juniors, and sophomores. I expected her to get some game time and get an opportunity to prove what she's able to do. But as a fan of Kayla, I wasn't expecting her to play full games or get that many starts; it is the first year in college soccer, I didn't expect her to get rushed in like Maya was not because she wasn't good enough because I think Maya Hansen and came into SDSU as a much more talented Prospect someone who's game is a little more natural as Kayla had to work extremely hard to reach the peak of her powers at White Bear Lake so when I knew she wasn't going to go into the team immediately. She played roughly 600 minutes with two goals and an assist; considering she wasn't starting that many games, I thought it was pretty impressive for a young kid to come into. She scored a stunning strike from outside the box, one of the best goals of the season. Then late in the season, she scored a backheel which was another great goal. I felt like she showed enough there to justify a more regular team selection next season. I understand that the attacking players at SDSU are pretty good, but I thought she had an excellent season, and we would see her more often. Last season she mostly started on the wing and several other attacking positions. Even though she's managed to get an assist this season, they are not giving her enough chances to prove herself. She has been getting snubbed quite a bit I'm not suggesting she should be replacing Maya Hansen or CeCe linguine, but there's a lot of things that the coaching staff can do to get her more involved, and they're not doing it, which I am taking slightly personal. Remember, I worked with Kayla for over a year; even though Kayla and I no longer have a day-to-day relationship as we did during her senior season, I still consider her my Prospect want to see her not being used and utilized correctly bothers me. She's not the only one dealing with this. At the peak of her powers in high school, Catherine Jones was an absolute pleasure to watch at visitation; the way she dictated herself from Midfield and in the attacking constellation was fantastic. She had more team success than Kayla did, as her team was a threat most seasons. But the reason they were most years was individually Catherine Jones was a true winner. The fact is that she wasn't the real deal in high school visitation is don't have the successes they have without her; she's so versatile you can play her in so many different positions, and he comes up in the biggest moments. Her senior season, she had 26 goals and 10 assists in her career; she ended up with 59 goals and 40 assists; an absolute monster with the ball she's very versatile can sore from close range, and from Deep here's a perfect touch of the ball can dribble well and his vision is second to none. Kayla Anderson had 94 goal contributions at White Bear Lake; just to put things in perspective, Catherine Jones has 99. She also wasn't someone who should have expected to play as good as she is from the beginning. Catherine Jones was the most impressive freshman last season, logging around 700 minutes, one goal, and one assist; her only goals came vs. North Dakota late in the game as she scored the winning goal. She has the clutch gene; she has the versatility and football intelligence; this was the season she would break out and become something special. She's played 35 minutes for games and all those 35 minutes came in one game; she has sat on the Bench for the full 80 minutes three of the four games that they played; this is just not enough for a player of her quality. Catherine Jones having 35 minutes doesn't make sense to me. I respect Brooke Thompson, but I don't understand this.
Adjustments and Using the Depth Could Lead to Great Success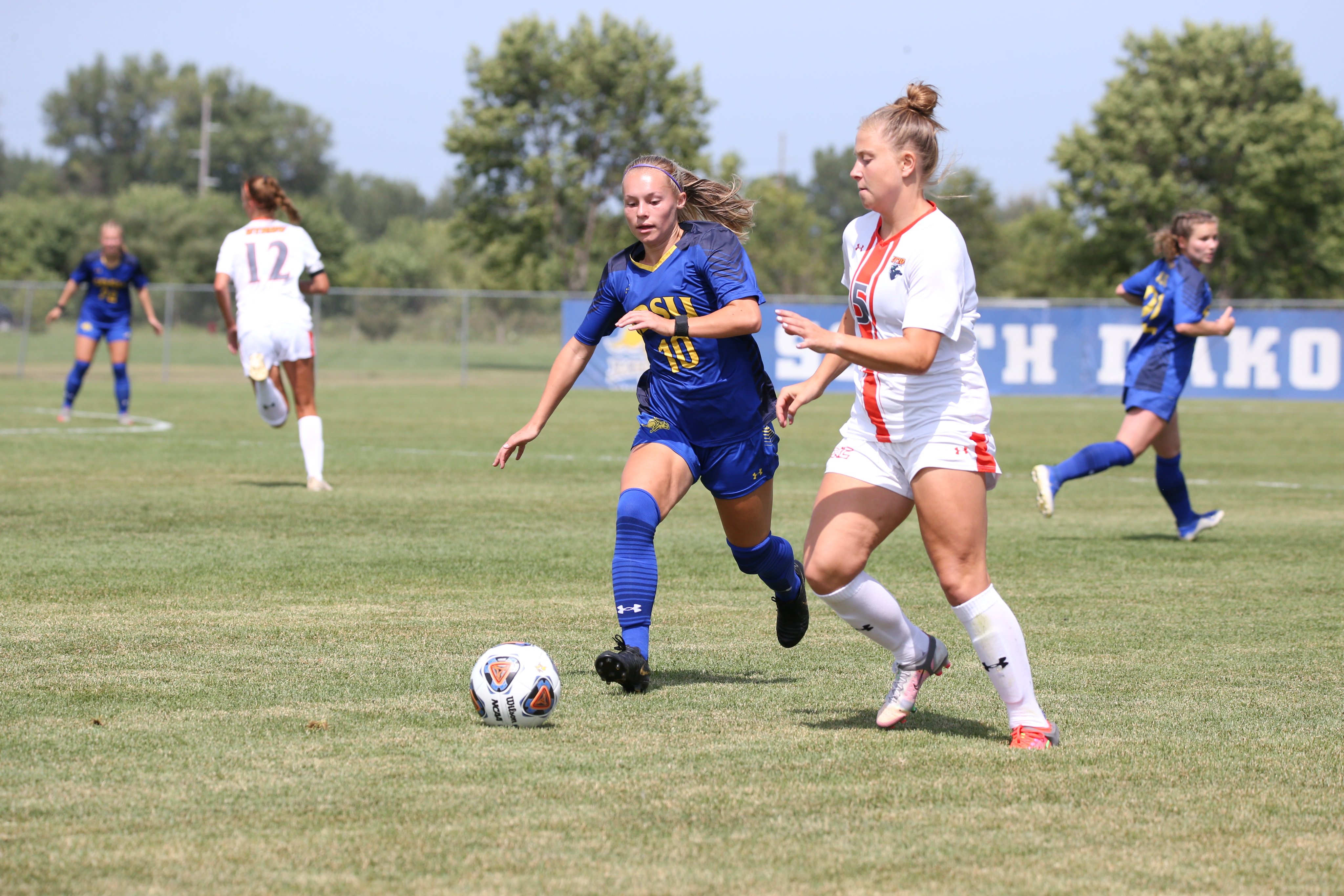 The team selection of SDSU is similar far too often. South Dakota State has an excellent starting 11; they're very strong pretty much all over; there's a reason that they're winning conferences. However, in the NCAA tournament in 2018, Oklahoma State knocks them out mainly because of the lack of adjustments and Tactical changes in that game. Oklahoma State only scored once, but the way they control the game, SDSU was never a threat. It is the only NCAA tournament appearance in many years, and the lack of depth is a type of thing that the rails a lot of outstanding teams; however, the ironic thing about SDSU is they don't have a lack of depth; they just aren't using it enough. Catherine Jones and Kayla Anderson are not married to a position. There are ways to use both girls and veteran players that they already have. I'm not asking either of them to replace Cece Limongi or Maya Hansen in the starting lineup; that would be ridiculous for me even to suggest. So far this season, they have been probably the two best players in the conference; they will be really difficult to replace; however, you can format the formation to fit both of those girls inside of it. There has to be at least an attempt but playing Hansen with Kayla and Katherine together. All three girls are from Minnesota know each other very well. I know their strengths and weaknesses and wouldn't know how to adapt to it. Secondly, people may not know this, but Maya played a big role in Kayla coming to SDSU. Kayla Anderson of Maya Hansen had an intense battle in Kayla's junior year it was a 4-2 victory for White Bear Lake vs Burnsville, with both girls proving their worth. Kayla and Maya played together on a club team and won a championship together. Those types of bonds can't be broken. My frustration is not adapting to circumstances. When you have a history like that, you can't ignore it. You got at least try to play them together because of the chemistry and communication that they have between one another. I find it slightly irresponsible that they're not even attempting to try. The same goes with Katherine Jones, who has so many different abilities that she has in her locker but cannot show it. She showed her quality last year and isn't getting any games on this season. I'm hoping this will change the problem with this: starting lineups at South Dakota State use very few changes from week to week. You need to try something. Kayla Anderson and Catherine Jones should but start some games. They should at least experiment with playing them together, all three of them. I'm not saying do every week what this team has a lot of good players is, and they should find a way to put Katherine Jones and Kayla Anderson together with Maya. Again I'm not suggesting taking out Cece Limongi. That's the beauty of it; they don't need to. I think Marissa Schultz is a good player good for depth who can remain to start games this season. I think she's done a good job, but I don't think South Dakota State needs to start her every game. She can be a perfect super sub. I think they have to test the waters; at least they're not in a challenging conference. If they're going to make the NCAA tournament, they're going to come up again some dangerous teams, and the only way to deal with that is with tactical adjustments and different formational sets.
Cece and Maya are Irreplaceable but Adapting Kayla and Katherine into increased Roles Could be Exactly what the SDSU Needs
This is what you do; you keep Cece Limongi and Maya Hansen both in the attack; you can't afford to take either one of those girls out as long as they're both informed there in every lineup regardless. Taking out Marissa Schultz, who will be used as a critical player off the Bench, put Katherine Jones in the attacking installation. Then you make a slight change for those of you who have been reading my articles about Kayla; you already know what I'm about to say. Kayla Anderson was born to be a false 9 because of her size, athleticism, and ability to be dangerous through the air; she is a great passer and has an incredible vision; she's also capable of scoring from long distances as well as making those run into the box which opens up the lanes to feed the ball into any of the other attackers. I think they have to try it; what's the harm in doing that? They need to have different adjustments because if you're starting the same lineup with the same formation every week, teams will figure you out. Katherine Jones and Kayla Anderson need to at least be starting some games. I am glad I see Kayla come off the Bench, but considering the options you have in the attacking position, why not try her as an attacking midfielder or push her up as a false 9? I think she could even thrive as a CAM with Katherine Jones's movement and footwork she can play anywhere in the Midfield or the attack with Kayla's height and explosiveness along with her passing ability you can play her behind the attack or a part of it there's no reason either of these girls should not be getting on the field more often. There's no reasonable reasoning behind the girls not playing more often. Logistically speaking, there's no reason that they shouldn't be adopting the formation and experimenting with playing them with Maya on top of that, putting them in other positions that they can play at a high level. I understand you can't let Cece Limongi. or Maya go to the Bench, but you got a lot of star power in this team; you can change the formation you can adjust it the problem is if they keep this going and they're trying to get to the NCAA tournament because it's inevitable the probably win the conference either them or Denver they're going to start to see more challenging and complex teams as the season progress they got swallowed Alive by Creighton the reason that happens is adjustments and couldn't adapt to playing a much more difficult team then they're used to seeing. Again, I mean no disrespect to anyone; these are just my opinions on what I have seen and know about football. You are welcome to dismiss what I said. I am not coming out here and saying this is the absolute truth; from my point of view, these are my frustrations with the team so far this season, especially regarding Kayla Anderson and Catherine Jones. I respect the coaching staff and all the players on this Squad. I'm not behind closed doors I don't know what's happening within the team; this was just my outside perspective without my frustrations regarding the team. As far as some of the things I've said throughout this in regards to how teams develop throughout the season take it for what I said because I know what I'm talking about but I have no negative things about the players or the coaches of this team to say whatsoever again I just want to make it clear these are my points of view and I'm not expecting everyone to share them but it's something I'm passionate about being involved with Kayla Anderson and working with her in the past I'm always going to have a very emotional reaction to what goes on at South Dakota State University understand my emotions involved in this but also understand that I'm a writer just breaking down what I see and witnessed I've been doing this a long time I know what I'm talking about but the beautiful thing about football is we don't all have to agree but please if you're going to challange me be respectful we'll just have to see what kind of changes are made throughout the rest of the season I wish the jackrabbits the very best this campaign and really do genuinely hope they get to the NCAA tournament I'm a massive fan of the of the team and the players and just want the best for them everything this has been writting parly out of emrtion if I didn't care about the team I wouldn't be writing about this