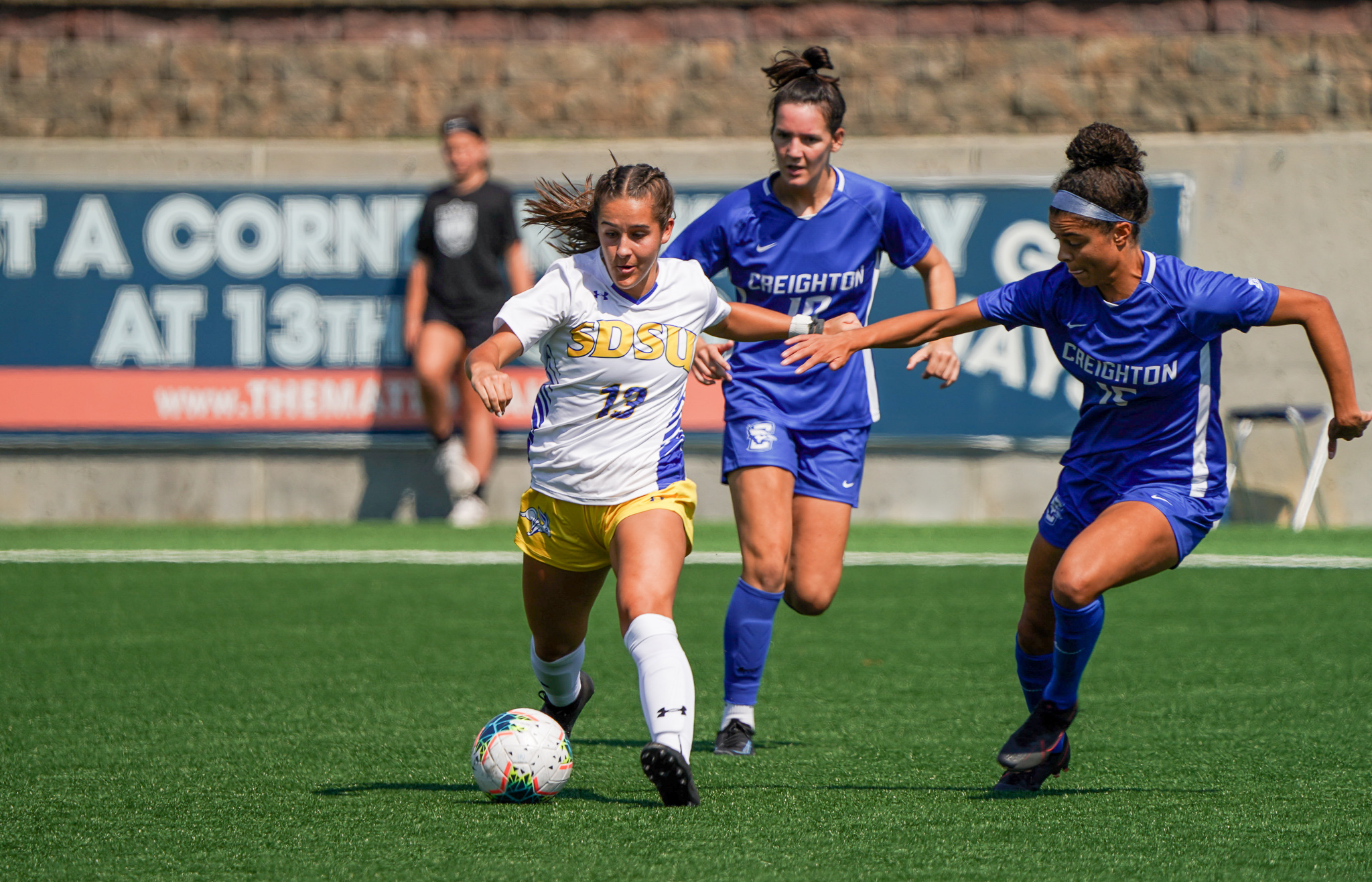 Maya Hansen is the best player in the Summit League conference and arguably has been since her freshman year. Ever since she arrived at South Dakota State University from Burnsville, Minnesota, she has been a star and a difference-maker. This shouldn't surprise anyone who has followed her High School career; her game is very translatable, so it's not surprising that we are seeing her have a similar level of success. Maya Hansen scored 61 goals and dished out 19 assists in her four years at Burnsville High School, one of the best girls high school players of all time. During her Junior and senior season, she was the best player in Minnesota, and I don't think that's even disputable. She had a very smooth transition to the next level as we've seen her perform and be the number one option on a South Dakota State team that is expected to challenge for the conference and potentially make another appearance in the NCAA tournament. I'm not suggesting she's one of the best players in the nation because when you look at all of girls' college soccer, there are players who will wear the red, white, and blue and play for the biggest clubs in Europe. I'm not even suggesting she's incapable of that, but on the grand scale, she's not in that there as of yet, but I think she could get there. In SDSU's conference, she is the best player and has proven it for two seasons and so far this season. She is on pace to have a career that will only enhance her football career. Maya Hansen was the first High School athlete I ever worked with. My career in the journalism space is more connected and attached to Kayla Anderson, considering we worked closely together. However, Maya Hansen gave me the first opportunity; without Maya, I wouldn't have worked with Kayla. Part of the reason Kayla was willing to work with me was that I had previously worked with Maya. When I initially approached her, she reached out to Maya to confirm, but I was legit. The proudest accomplishment of my career would not have been possible if Maya Hansen didn't take a chance on me. Maya and I didn't have the best working relationship; it wasn't a lousy relationship but just didn't have the chemistry; however, my breakdown of her as a player has remained unchanged. I worked with Maya in 2018 following the completion of her senior season at Burnsville High School. I never got to go to games. I didn't get to see her live; all I could go off was with the film tells me and the emails that we exchanged. At the time, I described her as one of the most talented players in her age group I have ever seen. I knew Maya Hansen could be a special player at this level; there were some similarities with some historically great players in her game. As this article progresses, I will go into more detail. I have said things and done things regarding my projection of her career that no one has said. I saw something special in Maya Hansen, and we see those things turn into fruition now in 2021. What I am about to say it's something I guarantee no one has even suggested. Her coaches, friends, family, and anyone else in their lives have not said what I'm about to say right now. I am operating out of objectivity, and what I see is a professional footballer. I believe Maya Hansen will become a professional footballer on some level, whether European or in America. Maya Hansen will play professional football if she keeps her head on straight and has the right mentality. I know not many people aren't saying this; in fact, I'm probably going to be the first to suggest this. I will take this even further in my opinion; the American professional League of women's soccer is the League with a low standard; the League itself is an inferior league to the rest; in my eyes, this is why so many USWNT has gone to Europe. I believe that Maya Hansen, at this very moment, could be playing professionally in that League. I could see her being a professional footballer for several teams. I'm not suggesting that she's going to become a Barcelona player, but what I'm saying is by the time she's finished at South Dakota State University, as long as mentally she has her head on straight and continues to improve, she will play professional football somewhere. Long-term, I think it's even a possibility that she could play for the national team and play in World Cups one way or another. Burnsville native Maya Hansen and current SDSU Striker will become a professional footballer.
Flying Start as a Freshmen 
Maya Hansen had a historically great High School career; she is one of the greatest players of this era. When you think of the all-time greats and High School women's soccer in Minnesota, she's certainly one of the best of the last decade. Her numbers speak for herself, with 61 goals and 19 assists. That is 80 goal contributions. There are players with significantly more than that in the last couple of years; would that still isn't an outrageous amount. Maya Hansen had two of the most efficient seasons in high school of all time. Efficiency rating in front of goal is historically great. Maybe even the most efficient goal scorer of all time now; that doesn't necessarily mean she's scoring every time she touches the ball, but she knows where the target is and very rarely misses the ball mark. During her senior season, throughout a 15-game campaign including playoffs, roughly 115 shots on goal, she hit the target 105 times she register and an accurate shot 90% of the time. She decided to join South Dakota state; she was very accomplished at the high school and club levels. She came with a great reputation and was influential in Kayla Anderson joined the team a year after her with all this expectation and pressure on Maya Hansen to deliver at the next level; she hit the ground running. You would think, considering South Dakota State is a very well-rounded team even at that time, it would take a while for Maya to hit the ground running considering game time for a freshman, especially in a very competitive sport, it's not very easy to get solid game time or becoming a regular starter at a program like SDSU. You would have thought, ultimately speaking, that she would come into the season mostly as a substitute, then breakthrough showing what you can do and take on a more significant role during her sophomore season. However, Maya Hansen is simply just a different breed; she didn't have to wait any time. She went into the starting lineup during her first game of the season, more or less. She has become Irreplaceable ever since. She didn't find the back of the net for roughly six or seven games. I saw her live play against the University of Minnesota. I still went down to the stadium to watch her play. I'm still extremely proud of the project that I did with her, even though it was at the beginning of my career, and if I did it now, the project probably would have been much better. Nonetheless, on a scorching day, I watched her play live for the first time. The skillset that she possesses it's ridiculous; she has the dribbling ability of Lionel Messi and the long-range strike ability of Cristiano Ronaldo. I am not suggesting that she will ever reach the levels. Still, when you look at a player and trying to dissect which footballer is there, a comparison for Maya Hansen it's Cristiano Ronaldo and Lionel Messi, as crazy as that may sound. For Kayla Anderson, for example, Paulo Dybala and Antoine Griezmann, we make these comparisons to prospects none of them are expected to go out and do it like the ones they're compared to but as crazy as it sounds. I watched hours of Maya Hansen's film, and every time I watched her, the comparison is between Messi and Ronaldo, even though that sounds mental. She'll never reach that level like that, but as far as which players she resembles the most on the pitch, it's them. She looked very promising in that game created a lot of chances even though she did not score. Ultimately South Dakota State won the game, but Maya still is very impressive in how she conducted herself on the pitch, and she did a lot of incredible things with a ball. In her freshman season, she scored five goals supplying three assists. She was named to all-conference and was the Summit League freshman of the year. To accolades that I was not even the slightest surprised. I couldn't have been more proud of her but was I surprised with the immediate success in college? Absolutely not when you watch her Burnsville High School years on film, it's clear that you're watching someone special. She's not a perfect player, but she was a part of a South Dakota State team that made the NCAA tournament for the first time in many years. They took on Oklahoma State University; it was not her finest moment; even though she attempted to do some things, nothing really worked; she got frustrated and agitated and in the second half of that game, got a silly Yellow Card for she let her head go a little bit. She had a fantastic freshman season, but the NCAA tournament game concerned me because none of this matters if she cannot have the mental part of the game. Nicolo Barella can be a hothead because he's one of the best midfielders in the world, but at this level, from a mentality perspective, she can't lose her head, but thats just how I saw it; then again, I'm not perfect, so I could be reading that wrong. It was an unbelievable freshman season, but the end left a sour taste as I felt we didn't see the best version of herself or the team. She had an even better season the next year, finishing with seven goals and two assists. Important players have left new freshmen to come in, but there has been one constant thing within this team: Maya Hansen could get a professional contract by the end.
Maya is in for a Career year
When teams play against South Dakota State, she is the player that the opponents plan for. Among the other teams in the conference in meetings as they plan to play against SDSU, Maya comes up in every single meeting for every single team that plays against the jackrabbits, I guarantee it. It's not the only thing opposing teams plan for the opposition, but she is undoubtedly a part of the conversation. Maya Hansen is so influential she has earned a growing reputation in the League; you can't hide her as a freshman; you could hide her because no one knew who she was, and she just performs now there's a little bit of respect shown for her which is why there are so many teams that build their game plan on whether or not they can stop Maya Hansen. South Dakota State has played just a few games this season, Maya is already in for a career year. By the end of the season, Maya Hansen very well may have a difficult decision to make regarding her future. As I said, she could play American professional soccer right now, but there'll be teams and clubs throughout Europe and different parts of the world that will identify her as a potential new signing. It is quite possible by the end of this season, somebody could approach her with an opportunity to play professional football. However, after her senior season, somebody will certainly be interested in signing her. I'm just assuming. Maya Hansen, already in just a few games this season, has five goals and three assists; the season has barely kicked off; she has already won the Summit League player of the week, and I'm guessing this won't be the first time she does it. This upcoming season she has an excellent opportunity to increase that even further and potentially get to double digits in goals. Well, I do have some slight issues with the lack of adjustments that are being made by the coaching staff Maya Hansen is one of the most constant things about the squad; with the other high-quality players in the squad, they're just going to see the Beast, and she's going to continue to rack up goals. This is a very good squad with a lot of good players; most of them won't have the opportunities to play professional football after college; however, she's surrounded by a lot of good girls who play team football which is why they have played so well this season. The performance against Creighton University was abysmal; the concern Factor will be regarding this team is whether they can adjust when they play more difficult opposition Maya Hansen also will have to step up in the big game she certainly has done that in the past but with the pressure and added expectations on her back faltering against big teams will be her fault if they win she will get the bulk of the credit. There are 11 players on the pitch, but you have to carry the weight when you are the best player. The most interesting thing about this season for Maya Hansen is how she will cope with that. The media at South Dakota State University is not going to have the amount of pressure that you would get from someone like me or others in my field; when you are the best player on the team, there's added pressure win or loss it's your responsibility you get the credit. Still, you also get the blame when things don't go well. So a fascinating thing for me looking at the situation it's how Maya will handle those moments this upcoming season. She already has five goals three-assist; she's balling this season with an excellent Supporting Cast; hopefully, as the season progresses, the coaching staff will make more adjustments and will take more advantage of the depth that they have, which will only open up opportunities for my Hansen to go berserk. I'm going to speculate or predict is that Maya Hansen will score over 13 goals this season; the assist numbers are significant but certainly not as important as finding the back of the net. Maya Hansen in high school racked up a limited amount of assists. Still, she is a very gifted passer, so we could see a situation where she could get a good amount of assist, but the most important thing for her is leading the jackrabbits into battle with her brilliance and her team play. Finding the back of the net regularly will set the pace for the jackrabbits the rest of the season, but so far this season, she's been on form, and she is just going to have a career you just can feel it.
Maya Hansen Footballer Comparison: Leo Messi and Cristiano Ronaldo (Not a Typo I'm Dead Serious) 
I'm going to dig a little bit deeper to highlight the points I've already made. Maya Hansen was one of the best high school players of this decade in Minnesota; she delivered in high voltage moments for Burnsville; one of those seasons, Burnsville lost one of their best players, and Maya Hansen had to carry the team on their back. Even though the season did not end in the way she would have liked, she was able to manage the expectations being on her shows she has the mentality to deal with it. She shows up at SDSU as an incoming freshman, and unlike most freshmen, there was not a lot of time to learn and adapt to the team she was thrown into; the wolves expected her to be an important player from day one. What does she do? Becomes an All-Conference freshman of the year, and on top of all of that, was a very vital piece to an SDSU team that made the NCAA tournament. I had a certain level of displeasure of the team's performance against Oklahoma State. I thought the mentality was totally off, and they lacked discipline in that game. Maya really struggled in the game as well it was a bad night all around. However, these things are not something that we see from her very often. She has continuously gotten better each season; she has an incredible skill set and can do some incredible things with the ball. She's going to have a career season this year, hopefully getting back to the NCAA tournament. Still, again I think that is going to be more on the adjustments at the coaching May than her ability to perform because she has performed in every game this season practically and has been the player that sets the tempo for a South Dakota State team that's looking to win the conference again it is not the most difficult conference to win. Still, Denver is a good team with many good players, and that's easier said than done. South Dakota State is a much more explosive team as they have had a rapid start. Maya's going to continue to get better, and by the time she graduates, she will be a professional footballer. Just because a player is good in high school and college doesn't necessarily mean that's going to occur for them. Still, the talent level on top of the skill level that Maya Hansen has will take her to a level where she will have the capabilities of playing professionally. As long as her head is screwed on straight, she has the right mentality and continues to be a player to galvanize the people around them; there should be nothing stopping her from achieving. Maya Hansen is an incredible individual Talent, one of the best players I have ever seen of her age group. The most talented player from Minnesota since Sophie Babo, except the thing is Maya has a significantly more successful college career; the talent level of is ridiculous, one of the most talented girls I have seen at this age. This includes several players on the US Women's National Team. Obviously, she's not good as any of them, but if you're just trying to evaluate her talent level, she's more talented than most of them as crazy like that to comprehend the actual truth. She has some serious and natural ability which means in the end. It's on her to have the mentality to continue improving and becoming a player who can make a difference at the highest level. She does not have the gift of leadership but, despite that, has moments where she shows it on the pitch by putting the team on her back and delivering. Maya Hansen dribbles through a defense like Lionel Messi; her footwork is out of this world. She can redirect with your feet extremely quickly and is a brilliant player who can take advantage of any defense. We have seen her cut through the defense from the Midfield inside the box and finish like Lionel Messi; we have also seen her hit a firecracker from outside the box like Cristiano Ronaldo. She had a goal in High School the side-by-side looked exactly like Cristiano Ronaldo's strike in the Champions League against Atletico Madrid; she can dribble through her defense and hit from range, not to mention it is challenging to get the ball off of her when it is at her feet. This level is just out of this world; her ability to perform in big moments is another thing that is uncommonly rare for someone of her age. Not to mention her efficiency in front of goal in a certain sense, she reminds me of Mauro icardi just a little bit how she gets in her danger area when she gets Inside the Box most of the time, the goalkeepers picking the ball out of the net. Honestly, as long as she has the right mentality, discipline, and professionalism to be a footballer, nothing will stop her from playing professionally. If she stopped playing now, I think she could play pro soccer in America, but if she continues to build on this, she could play in Europe; some may not believe what I'm saying. Remember, we did work together, but we did not have the best relationship; we got the work done, but the relationship was extremely inconsistent, so even though I'm saying this about someone I used to work with, I don't have any bias when it comes to her. Players of her level have a bit of an ego as they should. She's no different if she can control and continue to improve through each game she plays; by the time she graduates, European teams will be knocking at her door. Maya Hansen will be a professional footballer; remember that I said this when it happens.